041007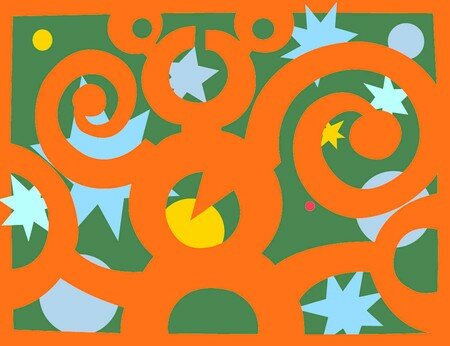 Shaamgic is a mischievous creature. He's a lonely character and loves to tease, cracking branches, blowing between the trees or creating shadows to startle passersby…
We need to respect him because he's also a very powerful wizard, connected to planets and stars. He is link between the Cosmos and Rainforest.
300706
010606
Made by Inspiration of Superpower of British Columbia's Nature
070106
Soulshine Spray of joy and light...
More of my latest paintings: this way!!!
100905
Sokazo's Pacific Spirits in Motion
on an exclusive smart car
for the Vancouver Fringe Festival


Here's the latest addition to the Sokazo family
of design objects!
Result of a wonderful collaboration with smart Canada (Mercedes Benz) and the Vancouver Fringe Festival, this baby is already making heads spin…


Let me introduce you to U.F.Ool, Snearthquake and Hipposnagon: the three protective Spirits of the West Coast in a peaceful ballet on this exclusive piece of smART.


Hipposnagon is the Master of the Pacific Ocean and can make huge waves just for fun. He takes care of his people, fishes and other creatures. Very peaceful, he can turn into a complete fury just to show us how unique and powerful he really is.


Snearthquake's body is lost in every pound of ground. Sometimes he moves when we don't respect him. Watch out! It could be very dangerous for our homes... Fortunately for us, he loves the human kind and has been asleep for years to protect us.

U.F.Ool has frequent mood swings. Sometimes happy then quickly sad, formidable when he is angry and creates tornados or downpours. Friend of sailors, some people have seen him at sunset and ever since called him: Unidentified Flying Objects; but we know who he is...

Want to see more pictures of the Pacific Spirits in Motion on the SMART car? Visit the "Album Photos".
Reality and conformism are foreign notions to me. As a result, I had to developed an alternative way of living, way of seeing, a vital necessity.
I paint what we have forgotten to see. A world apart. A world that appeals to our memory and to the collective memory that existed before our individual awareness: proto-memory.
Each one of my paintings tells a wonderful story or describes a virtual or plasmatic landscape. The subjects are half monsters half cells, half fantastic half poetic. I like to describe it as iconic abstraction.
When discovering my work the spectator becomes actor, free to interpret his visions joyfully.
Neo pop artist, I don't try to portrait daily life on my canvas but instead enjoy reproducing my singular iconography on luxury objects (humidors, tufted rugs, smart cars, wine bottles, cement tiles, jewelry ...) to create a storm in our every day environment, permanently altering our sensibility.
For rendering my colorist poetry, I found no better technique that Hard-Edge (notably used by Ellsworth Kelly) to accentuate contrasts and make colors vibrant with life.
After validating my style by travels in Europe, India, Japan, Canada and the United States -where was organized my first solo exhibition 20 years ago, and numerous encounters with prestigious and internationally renowned artists like Matsutani (Gutaï Movement), Chillida, Riopelle or Alechinsky (CoBRA), I chose Vancouver to pursue my artistic career and show my art in a brand new dimension of inspiration, color and composition.
In a few dates...
1960 Born in Toulouse in 1962, raised in a family of musicians and art collectors between Paris and the French Riviera.
1980 After studying Ethnology at the University of Toulouse, is accepted into the prestigious Beaux-Arts School in Paris yet soon decides to seize an opportunity to live in Miami where he works for Teen Magazine as Art Director. He holds the first public exhibition of his paintings there, before travelling the world for inspiration: New York, London, Prague, Madrid, Bombay...
1990 Back in Europe, his work is presented in various galleries and museums along side world-renowned artists like Alechinsky, Chilida, Riopelle and Matsutani of the Japenese Gutai Movement; all endorse Philippe's style and professionalism.
2000 Challenged by the Industry to apply his Art to manufactured luxury objects, such as jewellery, sculpted rugs, cement tiles, cigar humidors, wine bottles, fashion apparels and cars... these objects become part of the Sokazo World and are shown together with paintings in travelling exhibitions.
Settles in British Columbia in 2005 where he found new inspiration, light and energy.
"Explosive paintings!"
Robert Villenave
Mayor of the City of Anglet (France)
"Generous artworks, saturated with overpowering colors where grow geometric forms, waves, circles and ethnic signs. Abstraction that hits the retina. Seduction is immediate."
Anne Tautou
Art Critic
"Philippe Sokazo's work particularly strikes me by the opulence of multiple effects opposed to a remarkable apparent simplicity in the making and in the iconic organization of forms..."
Denis Milhau
Chief-Curator of the French Patrimony
and Professor of Art History at the Ecole du Louvre (Paris)
Appointed member of honor by the city of Toulouse (France).
Philippe Sokazo's Art can be found in public and private collections in the USA, Canada, Spain, Andorra, France, UK and Japan.
060605
New artworks are added every week to the photo album!
This way to see the paintings...
311204
SMART
by Philippe Sokazo
Nonconforming artist of neo-pop inspiration, Philippe Sokazo gives life to his paintings as they shape and enhance elegant and distinctive contemporary objects: tufted rugs, cement tiles, humidors, jewellery, furniture… Currently spending most of his time in North America, it is here in Toulouse "the pink city", his hometown, that he decided to present his latest creations in an exclusive exhibition held at the smart Center between November 4 and 20. Worth mentioning is the participation of renowned jeweller Bernadou who will be offering a magnificent jewel designed by Philippe Sokazo in a draw organized during the opening reception.
Marie Claire n° 628 December 2004